Located in Polk County, Ankeny is one of the fastest-growing cities in Iowa, home to more than 60,000 residents who enjoy its big-city amenities and small-town charm. Despite its small start, this charming little city is now flourishing, with its booming businesses, educational opportunities, and recreational facilities.
Since it's on the smaller side, the residents tend to enjoy an active lifestyle with many walking and hiking trails under beautiful, soft, cloud-clad skies. Ankeny's Downtown, located at the center of the city, consists of well-lit sidewalks, large plazas, a plethora of shopping opportunities, and streets lined with delicious food and picnic tables to unwind after a tiring day.
Whether you're looking to experience Ankeny's rich cultural history or dive into authentic local cuisine, the city offers a multitude of recreational opportunities for everyone.
Here are some of the Things That You Can Do In Ankeny
1. Bike on the High Trestle Trail
Being one of Ankeny's top attractions, the High Trestle Trail is ideal for cyclists, walkers, and hikers. This 13-story trail was built over a decommissioned Union Pacific Railroad and spans around 25 miles long through five towns and four neighboring counties!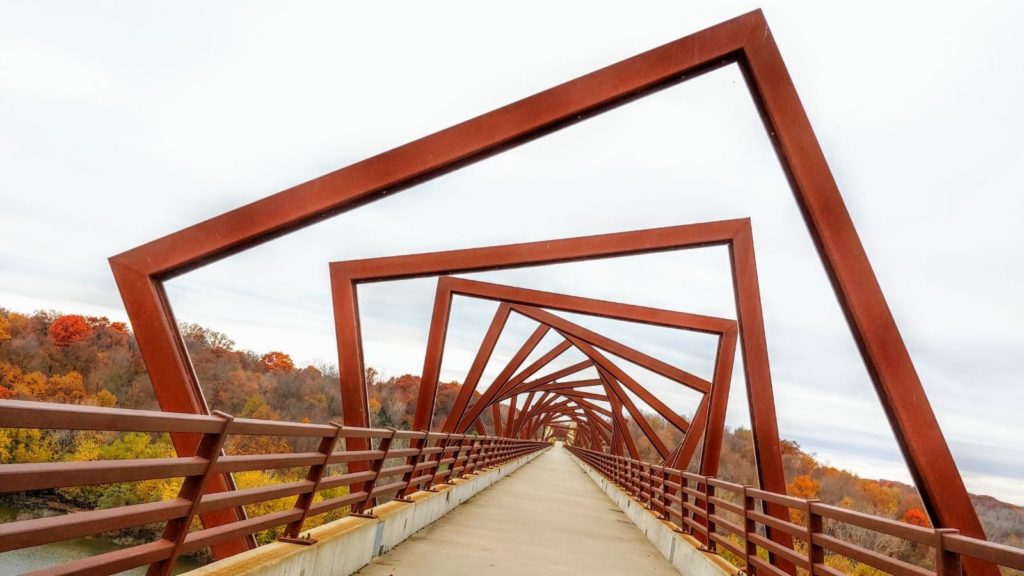 Passing through, you can get a picturesque view of the Des Moines River Valley, encompassed by lush greenery and a nearby lake, which is a breath of fresh air. Even if you're not planning on getting a workout here, you can stop by after dark; you can watch the mineshaft design illuminate with radiant blue LED lights.
2. Sip on Craft Beer at Firetruck Brewery
The Firetruck Brewery is an ideal spot to unwind after a warm day of biking around the city. Initially, Ankeny's old fire station, the new brewery, offers local craft beers served chilled to escape Ankeny's humid weather. You can also head to the patio on the north side of the building and enjoy your drink overlooking the bustling SW 3rd Street.
Apart from the inviting ambiance, the brewery also offers more than 25 unique flavors, and you can ask for samples if you're not sure which to choose! Make sure that you try out their 'Cat Dragon', a gluten-free drink when you stop by!
3. Revisit the Past at the Ankeny Area Historical Society
For an exciting trip into Ankeny's past, make sure that you stop by for artifacts, relics, and fun events. The society is comprised of a house from 1905 and a barn for museum buildings that showcase Ankeny, Polk City, and Elkhart's rich history.
The Des Moines Ordnance Plant is an exhibit for the military and shows Ankeny's progress in farming, history in the Second World War, and their schools' growth. Head to the basement to check out 20th-century antiques, tools, and photographs or the library to find out more about the people that lived here!
4. Explore the Ankeny Art Center
Despite being on the smaller side, avid art lovers can head to the Ankeny Art Center to enjoy the creations of local artists. Supporting the local artists of Iowa, the center shuffles the pieces of art frequently so that the Ankeny community can enjoy newer pieces and classic portraits.
You can stop by and meet up with people with similar interests or sign up for art classes available for both children and adults. Make sure you head to the ceramic area that showcases freshly fired vases and aesthetic pieces right off the kiln and set up for exhibits.
5. Relax and Rejuvenate at the Cascade Falls Aquatic Center
Most people love to relax in the cold water during summer. However, since Ankeny has extreme temperatures, this 20,000 square foot water park features heated water! The entire complex has heaters, and the swimming pools have floor geysers that keep you warm while having fun.
Offering many features, the Cascade Falls Aquatic Center keeps you warm and makes for the perfect afternoon with your family. You can spend your time at the splash park, swimming lanes, on the many slides for different ages, or head to the lounge section to soak up the sun. The FlowRider Surf Machine is another unique feature where you can ride the waves before heading to the lazy river to float about.
6. Land a Shot at the Otter Creek Golf Course
The Otter Creek Golf Course offers a links-style course as an improvement for beginners and is encompassed by lush greenery and picturesque scenery. You can also ask for lessons and have someone assist you during your game.
Being on the flatter side, the area is perfect for seniors looking to take a stroll or those hoping to hit an ace on the course. After a game of golf, make sure to head to the Tin Cup restaurant and sit on the balcony for a charming view, a chilled pitcher of beer, and delicious choices for pizza and other assorted snacks.
Finding Accommodation in Ankeny
If you're looking for a place to stay in Ankeny, you can find many hotels, guesthouses, and cottages ranging from affordable to high-end luxurious options. Here are some of the available options:
● Best Western Premier: Offering various rooms and suites, the Best Western Premier has premium accommodation with a variety of amenities. You can make use of the bar, enjoy a free breakfast buffet, and workout at the Fitness Center.
● Sleep Inn and Suites: This inn offers family-friendly rooms, allows pets, and children to stay for free. Apart from free breakfast, they also offer various amenities, such as a fitness center, a business center, and rooms with microwaves and refrigerators.
● Americinn by Wyndham: A family-friendly hotel, Americinn, provides family rooms, bridal suites, a fitness center, and a pool. The inn is also close to quite a few restaurants and the Otter Creek Golfcourse and Playground for Kids.
● Homewood Suites by Hilton: This hotel has luxurious living in a business park, which is only a few minutes away from Downtown Ankeny and 12 minutes away from the Des Moines Airport. Indulge in free breakfast, workout at the gym, and bring your pet along with you to make your trip complete!
Have Questions? Ask Barb!
Give Barb Wiedenman a call today to learn more about local areas, discuss selling a house, or tour available homes for sale.